Winnebachseehütte
Bergrestaurant/Bedienung, alpine dairy/snack bar, Hütten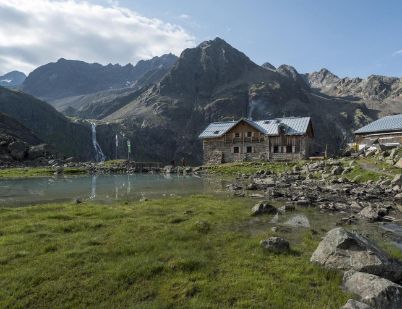 Where
Gries 30
6444 Längenfeld
Opening Hours
Summer: 19.06. - 03.10.2021
Winter: 19.02.2021 - 02.05.2021
Contact
T +43 5253 5197
E-Mail senden
Website aufrufen
Current Information
Please find the current guidelines and safety measures for a healthy together and a safe stay here: https://www.oetztal.com/winter/covid-19-safety-measures.html


Description
The hut is located at an altitude of 2361 m.
Start: Gries/turning Winnebach, Walking time: 2 h


6 beds
2 multi-bed rooms (4-5 pers. each)
22 dorm beds (4-5 pers. each)
winter room (9)
luggage transport for overnight guests possible

The hut: a quaint and cosy mountain hut with a friendly atmosphere. Wonderful location at Lake Winnebachsee, surrounded by mighty peaks, near an impressive waterfall. Great outing destination for families and hut hikers. In the summer great base for mountaineers, in the winter for ski mountaineers. Climbing garden in vicinity of the hut.

Crossings: Schweinfurter Hütte approx. 5 h, Westfalenhaus approx. 3 h, Amberger Hütte via Gries approx. 4 h or via Gaislehnscharte about 5 h (glacier experience!)

Peaks: Gänsekragen approx. 1.5 - 2 h, Hoher Seeblaskogel approx. 3 h.
With previous mountaineering experience and glacier equipment: Breiter Grieskogel approx. 3-4 h, Winnebacher Weißkogel approx. 3-4 h, Hohe Winnebachspitze approx. 3 h, Bachfallenkopf approx. 3 h (easy climbing in the upper part) (Alpine experience required).